I'll start out by sharing our day with you guys... Took Mr. Jaymes to the Accessible Festival after he got home from summer school. Crowded, hot, loud music from a really nice band. Lots of kids, lots of adults, lots of folks with disabilities. Lots of tolerance for differences. Very nice. No funny looks when Jaymes threw himself on the ground when he'd had enough. Jaymes actually did really well. He played awhile on the playground, then we went to the pavilion to meet up with Susan, who is the wonderful lady who made it possible (with the help of our equally wonderful case manager, Julie) for Jaymes to have his therapy swing. Jaymes had not met Susan before, but you'd think they were old pals. He clung to her like a starfish, and was happy as a little clam to be snuggling with her and listening to the band.
I'd been nervous, thinking the band might be too loud for him. They were too loud for me, and there were a few times I wanted to cover my ears. They were really good though, just we were sitting so close. Jaymes sat for about 15 minutes, stock still and silent, gazing at the band and clapping occasionally. He really enjoyed the music. A couple times he covered his ears and squirmed, but he seemed to shake it off and would go right back into enjoying himself.
Did I ever mention Jaymes' picture is on the Triad First in Families brochure? I think that's kind of neat.
Here are Jaymes and Susan, rocking out together (hopefully she's ok with me posting her pic up here, and if not she is welcome to send me an angry email and I'll take it right off!):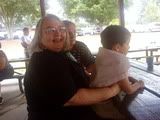 Summer school is going well. This morning the firefighters came and showed the kids their trucks, and they (the kids, not the firemen) made banana pudding. Jaymes came home with some really lovely art projects, and unlike his "work" at regular school, I know he made this and I'm happy. It's kind of funny, the staff over at Cash told me how summer school is "pretty much daycare" and not to expect anything... And the school is in the GHETTO, seriously scariest area I've seen and the school is not pretty like Cash... And yet this school has done WONDERFULLY by Jaymes. He's on a bus with 4 kids, and his own bus aide. He has a shorter bus ride to a school in WINSTON than the bus that goes to Cash, 15 mins away. Crazy. His teacher notifies me about ANY problems or issues, and she pays attention. I'm THRILLED with summer school, and I think Cash could learn from the Ghetto School.
I'm very stressed out still about the upcoming kindergarten year. So much, in fact, that I'm afraid to even let Jaymes start. I'm not happy that he's going into a self contained "AU" class, or that he can't have any inclusion time, or that we don't know who his teacher will be. The only compromise the IEP team would make at that awful meeting was that if he got a particular teacher, then she likes to take her class to the cafeteria with the other kids, and recess too. That was enough of a compromise to keep me- well, not satisfied, but tolerant of the teams decision. The team seemed to have forgotten that I'm a part of it too. I'm still upset at myself for backing down, I feel like I signed an IEP that I do NOT agree with, just to avoid more confrontation and drama. Stupid. Anyway, the little bit of "compromise" I got totally counts on Jaymes getting this certain teacher. If he doesn't, it's going to be another nasty, icky, unpleasant meeting.
I'm a little bit more confident now, knowing I have the backing of the ECAC. Incredible organization, they are wonderful. They are a wealth of info about all things school, and they are always willing to go over IEP's and give advice and help. Really dedicated, helpful people and just an exceptional group.
I don't know how the first few weeks of school will go. As of now, I'm hoping to have another IEP meeting prior to school starting, to discuss bus arrangements and a couple other things. now that we've seen how well Jaymes does with a bus aide and on a special bus (not just the neighborhood kids bus), I'm going to fight for that. Jaymes shouldn't have to sit on a bus with dozens of kids ranging in age from his age to 4th or 5th grade. he shouldn't be confined to a harness (if they ever even put in the order for one) when it's been shown that he does just fine with an aide sitting next to him. The bus driver and aide have nothing but nice things to say about him, unlike the driver from the regular school year, who had a heck of a time with Jaymes because Cash failed to provide either harness or aide... Or even an explanation to the driver that jaymes has autism and doesn't understand a 5 min lecture on why he should stay seated.
I want Jaymes to do at least one "special" with his typical peers. I don't care which one, I'll let the school decide that. I just want him included. The reasons the IEP team gave me were BS, and had I not been so flustered, I'd have shot them down. unfortunately, I failed in that due to my own nervousness. I know a lot of autistic kiddos from therapy, and a couple come to mind who have behaviors that are MUCH more severe than anything Jaymes does- and those kids are being included in specials with regular peers. There is NO reason Jaymes can't try.
Hopefully we'll get it worked out, otherwise I guess I'll look into a change of schools.
In other news, have I mentioned I'm going back to school? I spent 6 hours at registration the other day, which was exhausting. Met some weird people, some people like me, some people who smelled like pot. It was fun, in a boring and exhausting sort of way. In the end, I got 14 credit hours lined up. Two classes are online (psychology and History of Western Civilzation or something along those lines) and two are actually go in, sit down classes. I'll be at school Monday and Wednesday. Mondays it will be the math class from 2:30-5:20pm and the same time on Wednesday. Then, on Wednesday after that, I have 30 mins to rush from the Winston campus to the Kernersville campus for the english class. I'm horribly nervous already, but kind of excited too. Wish me luck- in my school endeavors and Jaymes' too!